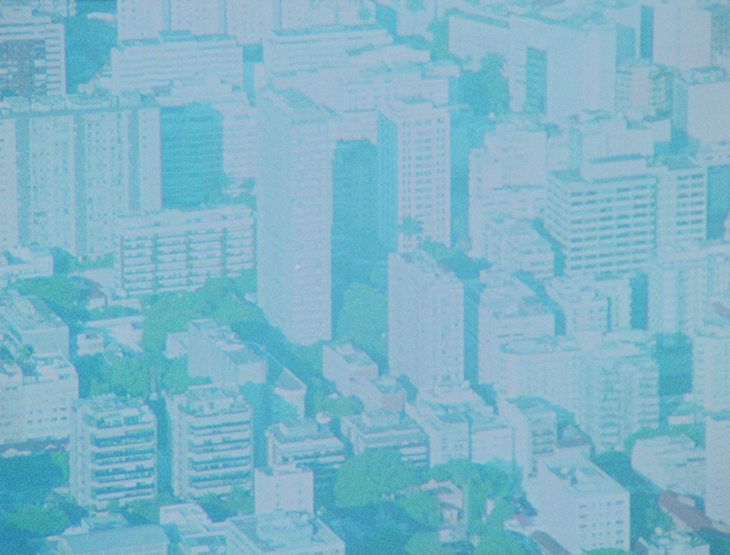 to forget
Super-8/16mm/2K Film: 4:3, C&B/W, 17 min, Stereo, Film: Lydia Nsiah, Sound: Jejuno, supported by Federal Chancellery Republic of Austria & wienkultur, 2019 | watch the trailer | press
Art Book: Edition 50, movie tie-in story to forget, format (closed): 235 x 175 mm, 10 p. (stamped in), english, supplement: photo & epilogue, price upon request | text: Lydia Nsiah & Found Footage, translation: Lydia Nsiah, George Schreiner, print: Neue Satz Wien, Sarah Bogner, layout: Flora Klonner, supported by wienkultur & Bildrecht Wien, 2019
Images above: to forget, solo, Zentrale, Vienna (May 17–June 15, 2019), installation shot: Miae Son | to forget (Art Book), photo: Markus Oberndorfer | to forget (Film), frame grabs 1-3: Lydia Nsiah, 2019
to forget is a filmic journey on the potentialities of forgetting and its resemblance to remembering. Recorded on expired Super-8 and 16mm-film only, forgetting becomes productive and 'visible' in non-existing, fading and colour-transformed film exposures. This (non-)documentation of possibly empty and fading spaces (to be) is further highlighted by Jejuno's trance-like and uncanny sound composition: The abyss is present.
***
Agfamoviechrome A 40 1993
DuPont Superior 4 1967
Kodak 500T 1993
Orwo Chromut 15 1984
….
The closing credits of to forget retrospectively propose an alternative interpretation, as the formula-like notation specifies the analogue, already expired Super-8 and 16mm film material that Lydia Nsiah recorded on. Through this application beyond the recommended expiration date, blanks appear, surprising lapses occur, and spots on the developed negative are visible that have transferred to the digitized positive. The colors of the images are strangely faded as though the recording had likewise occurred long ago in the past. Sometimes the light-sensibility of the material has shifted so that only color fields in beige, blue, and white remain; then at times, the sea or a bit of sky is still recognizable.
The meaning of remembering and memory culture has been a theme — not only of cultural studies — for quite some time. As a result, meanwhile, the issue of storage on appropriate media is increasingly posed: server cloud or analogue material in an underground storage unit? What and how much has actually already been lost in the process of copying and digitizing? What is the significance of that for a Western-centered culture that is desperately concerned with the archiving of data and things?
Lydia Nsiah approaches this complex issue using the means of artistic-research, in that she draws on a familiar setting. Based on the genre of the "travel film," she makes recordings that seem as though already written into collective memory: a journey through a Mediterranean landscape: birds at a waterway; steam rising from volcanic rock; the skyline of a modern metropolis.
However, through Nsiah´s twisted camera perspectives and the musician Jejuno´s score, the images are denied a common interpretation. The repetitive drone sound refers to the complexity of it all, as suddenly, inscribed in these images is something uncanny, something heralding the no-longer existing or no-longer-visible, the fear and simultaneous chance of forgetting.
(text: Claudia Slanar, translation: Lisa Rosenblatt)
***
"Immortalize" is often used as a synonym for recording something on film, but few media are as vulnerable to the passage of time as cinema. Nitrate film was replaced by celluloid and analogue film overtaken by digital video, and yet these files have to be updated regularly if they are to avoid becoming obsolete. Memory stored on film has a limited shelf life.
Lydia Nsiah demonstrates this using old Super 8 and 16mm film. The deterioration is evident: there are blank frames, strange blemishes, unexplained gaps and faded colors. Nevertheless, we regularly see images that we can all recognize without being able to identify them precisely: a flock of birds, a city skyline, a smoking volcano. They are archetypes from our collective memory, which is nourished precisely by these types of images. Nsiah's collage is therefore not about what we remember, but about the carriers of our memory. Its title is to forget, but it encourages us to get: to understand rather than to remember.
(IDFA – International Documentary Film Festival Amsterdam)
***
A journey captured on outdated film material that visualizes the process of forgetting in images that are faded, discolored, tilted, cross-faded, or abstracted through movement—in non-images. Through a surreal sound design and grandiose trance-like composition, to forget (or to get) makes tangible the transformation of memory as an uncanny experience.
(Michelle Koch, Diagonale'19)
***